1. GET CLOSE & GET LOW 
Get close to your dog/s, photos at a distance tend to not be in focus and grainy, and get down on the dogs level!
2. FOCUS
Don't forget to click the screen to focus the camera on your dogs face, this is especially necessary if you have a dark dog, and a light background.
3. LIGHTING
When outside, it's important to pay attention to the direction of the sun. You almost always want it shining on your dog. If you have to change your camera angle to accommodate the light, do so. Your dog will be much more illuminated, giving you a better looking photo. 
(avoid shadows, especially your own, being in the shot)
4.COMPOSITION
Use gridlines to balance your shot.
One of the easiest and best ways to improve your mobile photos is to turn on the camera's gridlines. That superimposes a series of lines on the screen of your smartphone's camera that are based on the "rule of thirds" — a photographic composition principle that says an image should be broken down into thirds, both horizontally and vertically, so you have nine parts in total.
The dogs/points of interest, should be placed where the lines intersect, or along the lines. OR in the centre of the shot, which means the subject will hit all four intersections
YOU CAN ALSO EDIT YOUR SHOT AT THE END TO PERFECT THE COMPOSITION
To switch the grid on …
iPhone: Go to "Settings," choose "Photos & Camera," and switch "Grid" on.
Samsung Galaxy: Launch the camera app, go to "Settings," scroll down and switch the "grid lines" option to "on."
5. GET YOUR DOGS ATTENTION
Make sounds they respond to (or use a speaker toy) and talk to them to get them to look at the camera (if that is what you want). You can also use treats! Dogs will almost always look right at the treat (even rustling the treat bag works too) Don't forget to reward them afterwards 😉
6. USE YOUR ENVIRONMENT TO YOUR ADVANTAGE
Its no coincidence that so many of our group photos are on seats/logs/hills! With all the dogs on a seat of some kind its a lot easier to get them to stay, and its easier to get down to their level too.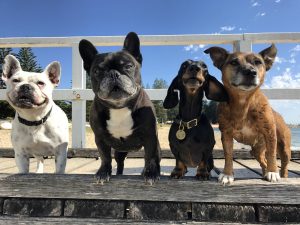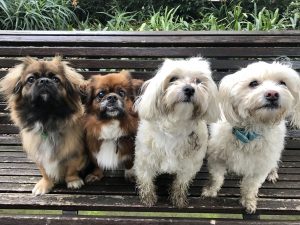 7. YOU CAN NEVER TAKE TOO MANY PHOTOS 
Take multiple shots! You can go through and edit later, you never know what you'll find! This is especially good for candid photos, you will find the cheekiest glances, mid air running, lips curled up… the list goes on and on.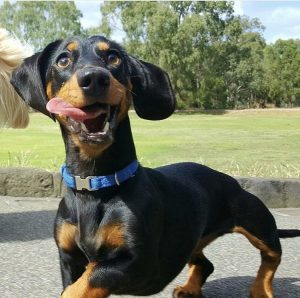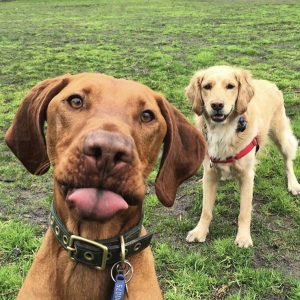 8. EDITING
This is the best part about a smartphone! 
select your favourite shots 

make sure they are in focus

crop and zoom if needed to correct the composition

lighten the image so you can see the dogs facial features – this is especially necessary for dark coloured dogs and photos taken indoors 
before  
after
9. GET CREATIVE
Once you are feeling confident with all of the above, forget all the rules and start experimenting!! Run along in front of your dogs, holding the camera low and just shoot away and see what happens. Change your camera angles, get really really high above your pups, lie on the ground! Take photos of the backs of your dogs, you might capture a beautiful silhouette, or all your pups tails in the same direction. See what happens when the light is behind your dog, can you move around until you can get a sunburst in the background?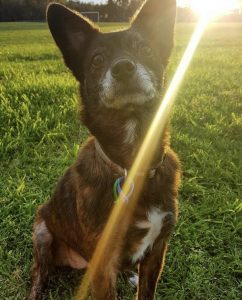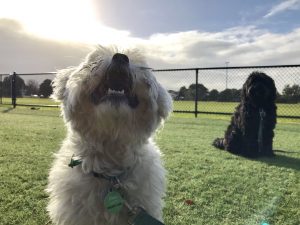 10. BE SELECTIVE
Only post the very best photo, quality not quantity!